Me and Giulia waiting for the gig
See around us the bricks.. the location was a mine!
We were arrived from a couple of days, but already I was knowing once again Elli had made something so very special and kind for me. She, two years later, bought me as well a ticket for Ligabue's gig in Lecce.
Back in 2000, we surprisingly get in front row, but sadly then I wasn't having any free space on my roll. The plan of Elli was to get again really near to the stage, this time equipped with MANY rolls...
The crowds gathers at the stage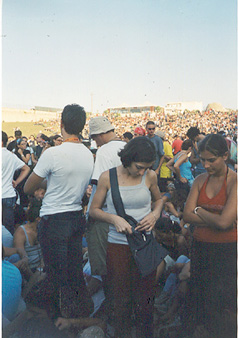 But... BEHIND ME ;)
So we left Parabita at 14h20 for takin also Giampaolo (new Elli's boyfriend ) and his collegue at army Giulia for composing the four Knights of liga's troop.
Sun was like in the desert, and the bad surprise was waiting already for the gates opening were MANY.
All bound to arrive at the front stage before us, and honestly, lookin way more likely than us at that in the first moment.
Elli was already sad for she was imagining we won't have come at any good position, while Giulia and Giampi didn't really mind that too much. But I was like "Be sure, we can always get to a corner of the stage in front row instead than at the middle and you'll see he will come near enough to us for allowing you to take a couple of great pics at least!"
The stage from what we knew from the previouses gigs in this mega tour was made like developing in all lenght like two arms embracing the crowd.
When the gates opened and we had to walk towards the former mine space in a sort of basket of stone, we had to realize the front stage was impossible to join indeed but while Elli was still stubborn in makin it thru the middle line, I stopped myself in the left corner, attached to the fence and stated: "Stay here: look up there, that's a monitor, which mean Ligabue will come here at least some minutes for singin something, no matter if we are far from the middle of the stage. Trust me. I know what I am talkin about, in the middle we would be rows behind tall people and we wouldn't see any, let alone takin pics.."
Elli trusted me, and with Giampi and Giulia they sat down waiting, while more than 20000 people were collecting themselves in the pictoresque venue.
I stayed standing for hours indeed, and I have to admit that reminded me of Finsbury gig, just that it was way more relaxing.
Ladies and Gentlemen...
Mr. Luciano walks towards ME!!!!!
The gig started without any sparring group performance, but as all Liga's fans know very well, that is not important, since the band and the an can rock the house alone and utterly majestically for more than three hours without any stop!!!!
What a man...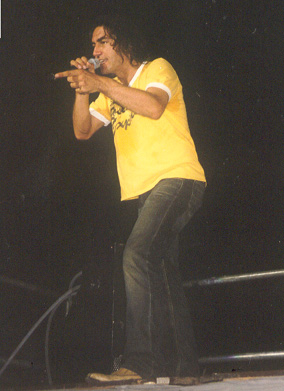 And what a great performer!!!
The whole gig has been as energetic and pumping as an explosion under water which creates a ten miles-long column of it, and then it splashes all over and over again.
The band played for almost 3 hours with virtually no stops, luciano's voice again and again didn't cease to amaze me for its perfection under every circumstance :)
I love to go at his gigs, there are 12 years of my life passing me by when I hear his songs, from meeting at Church, to my teenage holidays alone with friends in Greece and Malta, everything gets new shine and glitters in the space of his songs, in the powerful magic of them rendered live.
His voice, so raucous and warm, and still so variate and tender, full of love as anyone can really perceive also from his songs, just hits me everytime.
He's better live even than on his records, and look, his records are ace!!!
Then I love the fact he interacts with crowd, he's never bored of playing, he always put more than 100% in all he makes, like he really feel grateful we are there for him, and proud and blessed because he can live with his music, and communicate with many different people.
Anyway, the theory of mine about the good position for the gig worked.
It worked even too well in a way..
:P
I explain: Liga came after some songs in our corner.. he was in FACE of me, and the joy was supreme!!!
As soon as he came, we screamed and sang so hugely, that he got clearly impressed, and oversmiling as wide as possible, he let us sing all the rest of the song :)
After that, he came back three times to us, always stayin a lot and the second more time, he stayed in frnt of me for THREE entire songs!!!!!!!!!!
I had so many pics possibly to be taken, that I couldn't believe it :)
Both Ligabue and then Fede Poggipollini were lookin directly into my eyes during their performances and that I must admit really made me feel great :)
I suppose it was clear I was having a fantastic time, I think rarely I have sang that loud or screamed that high to any other gig :)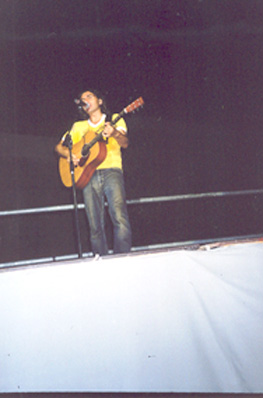 At a certain point Liga talked with us "socially" and even if I don't like popstars doing so, (nor Bono, although I love him, nor anyone else) I must say he was senseful and appreciable, and moreover he was utterly sincere and true, that was clear :)
Well, this man is SO sexy when he plays...
Go Fede!!! (and thanx for smiling towards me ;)!)
Elli was so taken by it all she was lookin at the stage like she was an ecstatic Maria or whatever :P
She said towards me at a certain point "Do you know I love you?"
:P I suppose she was happy she followed my advice about where to stay standing..eheh!!!
Talkin about the gig, at a certain point tons of silver cards were flying all over us, makin us shine like a bubble of sparkling smoke :)
The crowd in its 99,99999% composition was nice, nothing like England's ones I must say, but the power of us was still incomparable: we jumped, sang, screamt all over.. I was destroyed at the end and also sometime thru the whole thing, but ehy, who cared?
Ligabue made us choose with a sort of "claiming excellence clapping" some of the songs he should have played as encore, and that was funny, although I would have loved him to play his latest album closing tune, which I love so much (he sings in the chorus "Who knows if up in the Heaven Skies they play the Who..." that's a genius line!!!!) and he avoided to exit and then come back for them, saying "Well guys, now the perfect Rock Bible commentary would push us fakely out waiting for you to obviously call us back on stage and we should look surprised from it.. but that's bullshit, we all know the rules but why miss minutes apart? So that's the encore!!!"
Think he was playing with the band from 17 tunes already with NEVER stops between nor among them.
That man is Ironman of Stage!!!!
It was great, really :)